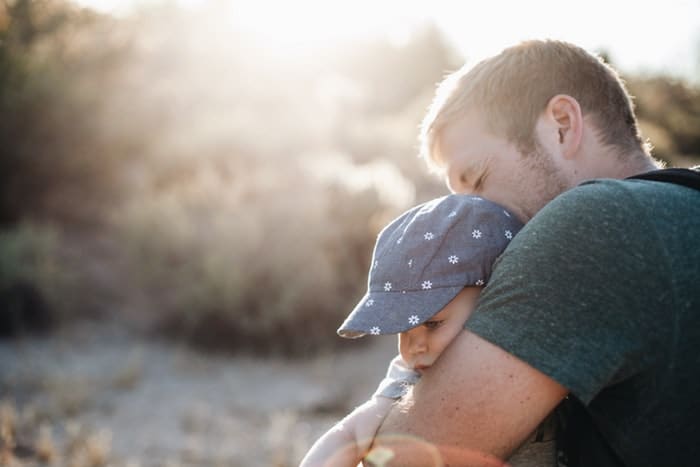 If you have been a part of the internet, you know that dads are famous for their dad jokes so we have the idea of pairing up their contact name with some as lame and hilarious as their jokes. The idea is 150 great contact names just for your father and if you want to go for something sweet, you will find those names in the list too.
We understand that having a contact name for dad saved as the same thing for a long time gets boring which is why we are here with a list. If you had been thinking about changing your dad's contact name in your phone to something new and creative, we have got just the things for you.
Fun & Creative Contact Names for Dad
With our 150 fun and creative contact names for dad list, you would be able to play around with your dad's contact name in your phone. We assure you that you will definitely find one name for your dad's contact that you will love so let's have a look down below.
Alibi Forever
Alpha Male
Appointed Driver
Backbone
Baldie
Bearded Guy
Beefy Guy
Beer Hog
Best Man Forever
Best Parent
Big Boo
Big Old Wolf
Buffy
Bug Killer
Calm Presence
Cash Tree
Coach
Colonial Times
Constant Helper
Cookie Monster
Cool Pop
Couch Potato
Crackling Bones
Crazy Good Man
Dada
Daddigton
Daddy Bear
Daddy Lion
Daddy Mcphee
Daddy Poppins
Daddy-O
Dadinator
Dadling
Dadster
Dang Dad
Darling Papa
Dumbledore
Dusty Brain
Eye of the Storm
Family Man
First Teacher
Food Provider
Forever Chief
Forever Young Dad
Genes House
Ghost Buster
Glasses
Glued to Lounge Chair
Go to Man
Golf Man
Good Ol' Pirate
Grease n Tools
Grim Reaper
Gut Man
Guy with the Spatula
Handyman of the House
Hard Hearer
Hawk Eye
He Who Must Not Be Named
Head of Family
Hercules
Home Sweet Home
House In Charge
House Police
Humor Device
Hunter of Pizza
Irreplaceable Man
Jack of All Trades
James Bond
Jolly Daddy
Kid Buster
King
Knight in Shining Armor
Lame Joker
Last Man Standing
Little Finger
Loose Jeans
Man of the House
Man Who Grills
Materialist
Mechanic
Mountain
Dad
Dadfire
Mufasa
Mush Ball
Nanny Forever
Night Watch
Official Plumber
Olaf
Old Crow
Old Man
Old Movie
Old Pal
Old Turtle
Oldest Buddy
Oldie
Oldling
Optimus Prime
Over Protector
Overseer
Pa Dearest
Pa Kins
Papa Bear
Papa John
Papa Zeus
Papacita
Pappums
Pappy Forever
Partial Birth Giver
Party Pooper
Paunchy
Pa-ying Machine
Pop
Popeye
Poppy
Pure Heart
Roaster
Rocky
Rusty
Safety Cone
Santa Claus
Savage Dad
Second in Command
Self-Made Man
Shield of Life
Silent Rock
Sir Fixerlot
Slightly Mature Dad
Slow Texter
Super Duper
Superhero
Superman
Supreme Leader
The Grounder
The Hulk
The Terminator
Tiger
Tough Guy
Treasure Man
Turkey Carver
TV Controller
Warm Hugger
White Wizard
Wise Man
Wise Owl
Worker Bee
Yes Man
Yo Dad
Yoda
---
Names To Save Dad Contact in Your Phone with Emoji
Creating a memorable contact name for your dad in your phone adds a personal touch to your relationship. Check out these creative and fun suggestions for dad contact names, each with a unique emoji that captures your special bond.
Super Dad 🦸‍♂️
Papa Bear 🐻
Captain Courage ⚓
Wise Wizard 🧙‍♂️
Daddy Cool 😎
Rockstar Dad 🎸
King of Hearts 👑❤️
My Main Man 🤵
Top Chef Dad 👨‍🍳
The Provider 💼💵
Mr. Fix-It 🔧
Hug Master 🤗
Coffee Buddy ☕
Road Trip Navigator 🚗🗺️
Tech Guru 📱💻
Golf Buddy ⛳
Grill King 🍔🔥
Storyteller 📖🗣️
Adventure Dad 🌄🎒
Dad Joke Champ 😂🏆
Music Maestro 🎶🎵
DIY Hero 🛠️
Fishing Partner 🎣
Mr. Wisdom 🧠📚
Handyman Extraordinaire 🔨🔧
Couch Potato King 🥔📺
BBQ Boss 🍖🔥
Soccer Fanatic ⚽🥅
Gardening Guru 🌱🌼
Movie Buff 🎥🍿
Game Night Champ 🎮🏆
Dancing Dynamo 💃🕺
Pizza Connoisseur 🍕🍕
Car Whisperer 🚗🚙
Fitness Fanatic 💪🏋️
Donut Devotee 🍩
Karaoke Star 🎤🌟
Star Gazer 🌌✨
Camping Enthusiast ⛺🏕️
Beach Bum 🏖️🌞
Ice Cream Lover 🍦🍨
Coffee Enthusiast ☕☕
Nature Explorer 🌿🔍
Pancake Master 🥞👑
Football Guru 🏈🏟️
Comic Book Geek 📚🦸‍♂️
Puzzle Pro 🧩
Dog Whisperer 🐶🐕
Sailing Captain ⛵🌊
Best Dad Ever 🏆❤️
---
Since dads are a bundle of joy in our lives, why not make him happy by showing him this amazing list of 150 contact names for dad solely created for him. Pick one name out of the 150 name list and save it in your phone as dad's contact name.
Here's list of more contact name ideas: