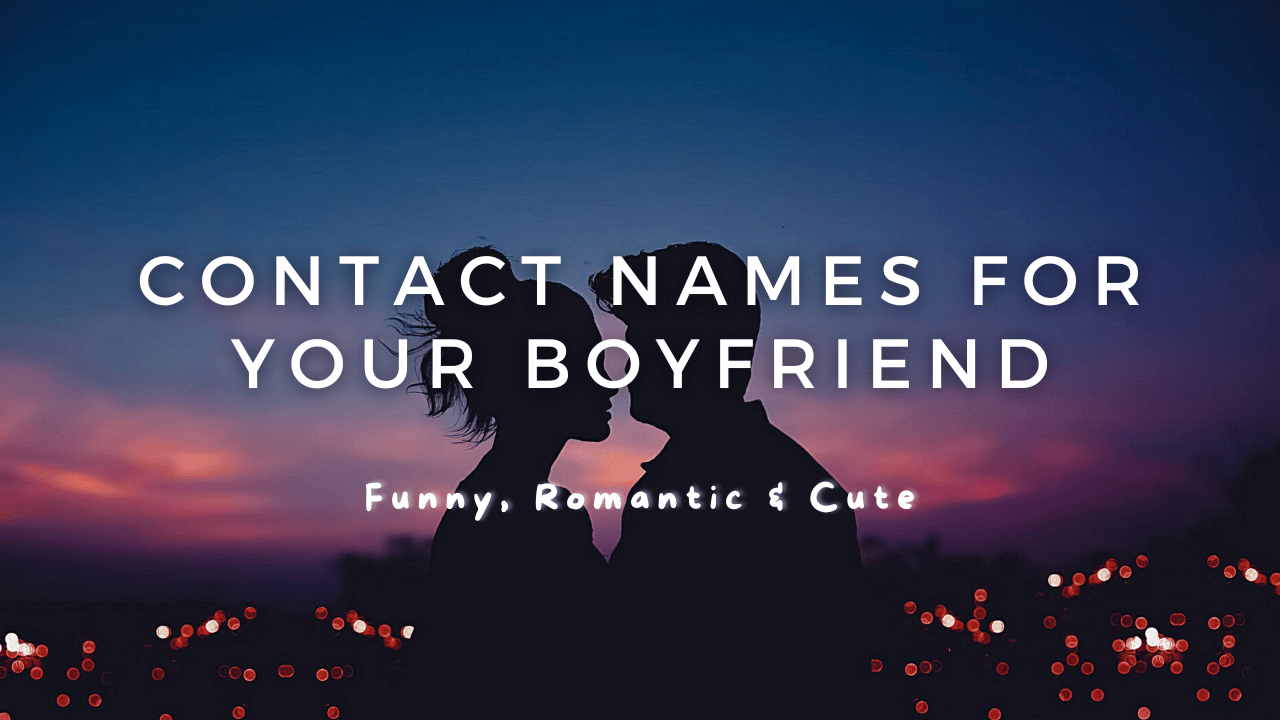 Hey there, lovebirds! You know what's super fun when you're in a relationship? Giving your partner a special nickname that only you two share! Whether it's a romantic moniker, something silly and funny, or just straight-up cute, having a contact name for your boyfriend in your phone can make your bond feel even more special and intimate. So, we've gone ahead and put together a list of 150 romantic and adorable contact names for your boo thang to save in your phone. Trust us, these names are guaranteed to put a big ol' smile on your boyfriend's face and make him feel extra loved and appreciated.
From classic nicknames like "babe" and "honey" to more unique names like "captain" and "panda," this list has a variety of options to suit your boyfriend's personality and interests. You can even use different names for different occasions or moods, like "snuggle bug" for a cozy night in or "adventure buddy" for a day out exploring. So take a look at these romantic and cute contact names for your boyfriend and find the perfect name to save in your phone.
Romantic & Cute Contact Names for Your Boyfriend
Here's 150 romantic & cute contact names for your friend and you'll surely have some fun reading them.
Adorable
Almond
Amor Mio
Angel baby
Apple
Apply of my eye
Babeh
Baby
Baby Daddy
Baby Guy
Babycakes
Babylicious
Bambi
Beaver
Betterhalf
Big daddy
Blossom
Bond
Boo
Boobear
Boober
BooBoo
Boss man
Brave heart
Brown sugar
Bubba
Buzz
Captain
Captain Cookie
Champ
Chester
Chubby bunny!
Crazy
Cream
Cuddly bear
Cutie Pie
Darling
Dashing
Dear
Dearest one
Deep
Dexter
Douche bag <3
Everything
Favorite
Firefracker
Foodie
Genius
Giggles
Handsome
Heart throb
Hercules
Hero
Honey
Honey bunches
Honeybear
Hottie
Hubby
HuNtEr
I R O N M A N
IceMan
Jammy
Jelly Bear
Jellybean
Johnny Boy
Ladies Man
Little Lamb
Love bugs
Love sponge
Lovebug
Macho man
Mashmallow
McDreamy
Mine
Mister cutie
Moneyboy
Mr. Perfect
Mr.Cool
Mr.Good looking
Mr.perfect
Mr.right
Mustang
My Baby
My beloved
My blackness/whiteness
My boy
My boy <3
My everything
My kind
My love Bee
My lovely bear
My Man
MY REDNECK ROMEO
My sunshine
MyBabyForLIFE :]
Naughty
Nogut
Otherhalf
Pancake
Panda
Panda bear
Papi
Peanuts
Pickle head
Potatoes
Prince Charming
Pumpkin
Puppy
Rocky
Romeo
Rum rum
Satan
Sherlock
Smiley
Snow bear
Soulmate
Sparkles
Sparky star
Suga
Sugar Daddy
Sunny
Super Mario
Super stud
Superman
Sweet prince
Sweet thang
Sweetheart
Sweets
Tarzan
Teddy bear
tellybear
That guy 😉
The one
Tiger Toes
Tigerr
Tough guy
Treasure
True love
Twinkle
Ultimate
Valentine
Waffle
Winnie
Wonder boy
Wonder man
Wonderboy
Woody
Wonderland
Wafer
Zebra
---
Funny Contact Names to Save Your Boyfriend Number
Elevate the fun in your relationship with these playful and funny contact name ideas for your boyfriend to save his number.
Captain Cuddles 🛌🤗
Snack Stealer 🍕😄
King of Puns 👑🤪
Netflix & Snuggle 📺🍿
Chief Goofball 🤪😂
Pillow Hog 🛏️🐷
Master Teaser 😜🃏
Burrito Bandit 🌯😄
Captain Clumsy ⚓🙃
Gym Skipper 💪🏋️‍♂️
Ice Cream Bandit 🍦🕵️‍♂️
Dancing King 👑💃
Pizza Pirate 🍕🏴‍☠️
Coffee Commander ☕👑
Laundry Prodigy 🧺🎩
Jokester Extraordinaire 😄🎤
Snuggle Monster 🐻🤗
Chief Mischief Maker 👑🎉
Weekend Warrior 🛋️🎮
Chief Sock Finder 🧦🔍
Remote Control Guru 📺🕹️
Cheesy Jokester 🧀😆
Captain Lightheartedness ⚓😄
TikTok Champion 🕺🎵
Sandwich Artist 🥪🎨
Chief Sock Puppeteer 🧦🎭
Mr. Meme Master 📸😂
Dancing Dynamo 💃🕺
King of Quirks 👑🤪
Chief Snackologist 🍔🧪
---
Contact Names for Boyfriend with Emoji
Here are more romantic and cute contact name ideas for your boyfriend, each with an emoji:
My Love 💖
Sweetheart 🍬
Angel Eyes 😇
Beloved 🌹
Heartbeat 💓
King of My Heart 👑
Lovebug 🐞
Starry Eyes ✨
Forever Mine 🌟
Dreamboat 🚢
Sunshine ☀️
My Prince 🤴
Teddy Bear 🧸
Sweet Talker 🗣️
Moonlight 🌙
My World 🌎
Cherished 💑
Cuddle Bear 🐻
Diamond in the Rough 💎
My Universe 🌌
Heart's Desire 💘
Adorable One 🥰
My Everything 🌟
Prince Charming 👑
Sweet Symphony 🎶
Lovebird 🐦
Enchanted 💫
Captivating Soul 🌠
Irreplaceable 💖
Perfect Harmony 🎵
---
So there you have it adorable contact names for your boyfriend that will surely make him feel special. It's time to add a personal touch to your relationship and pick a nickname that only the two of you share. You could surprise him by setting a new name and watch his face light up with joy. You could even jot down a sweet note next to his new contact name to make it even more special. Don't keep these fantastic ideas to yourself – share this list with your friends and let the love spread! After all, spreading love and happiness is what makes the world a better place. So, go ahead, get creative, and let the romance bloom!
What's next? Check our other collection of contact names: