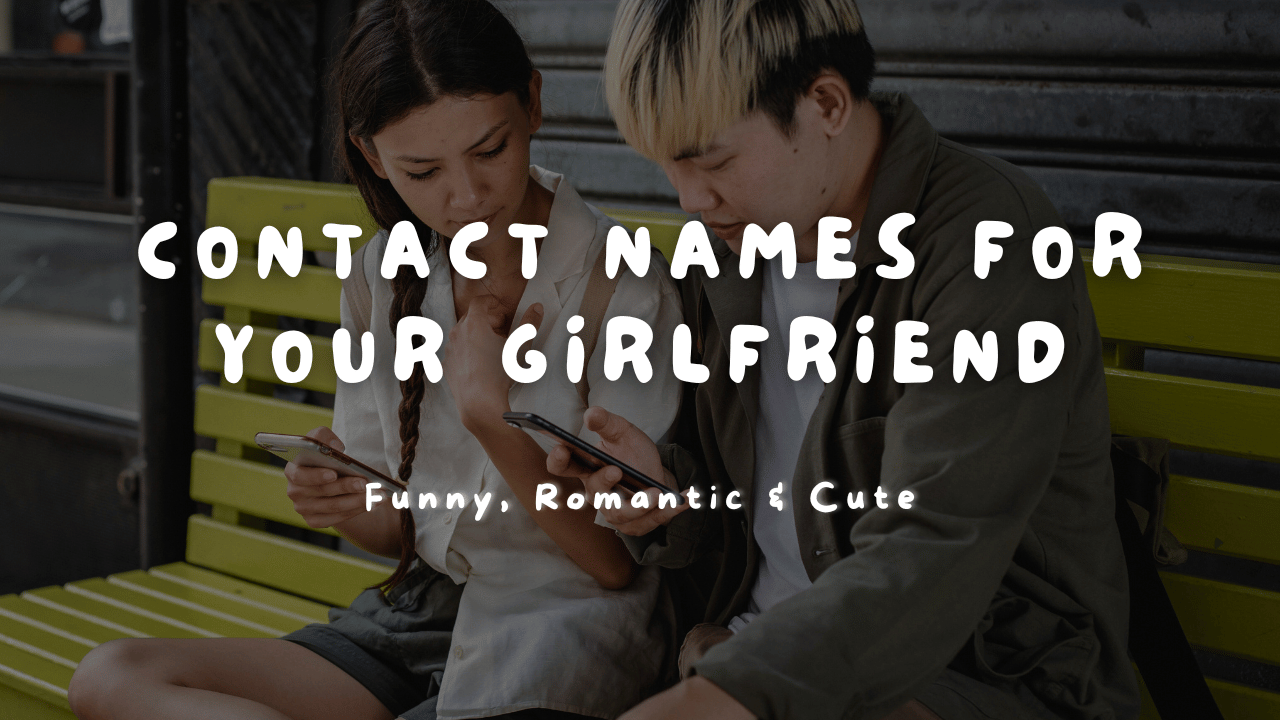 If you're searching for a cute contact name for your girlfriend, look no further. A nickname is a great way to show your girlfriend how special she is to you, but choosing the perfect one can be a challenge. Whether you're looking for a romantic, cheesy, or sensual nickname, it should be something that represents your love for her and her unique personality.
To help you find the ideal nickname, we've compiled a list of 100 romantic cute contact names for girlfriends. From dream girl to baby doll, these options are sure to make her feel loved and cherished. Remember, the key is to choose a nickname that is personalized and unique to your relationship. Take into account her personality and what makes her smile and feel special.
Romantic Cute Contact Names for Girlfriend
So, without further ado, check out our list of 100 romantic cute contact names for girlfriends and find the perfect one to save in your phone.
Angel
Angle eyes
Apple
Babe
Baby cheeks
Baby doll
Bae
Barbie
Beautiful
Bella
Blossom
Blue eyes
Blueberry pie
Buttercup
Butterfly
Butterscotch
Cheese balls
Cherry
Chip munk
Chocolate bunny
Chocolate
Cinnamon
Cloudy eyes
Cuddles
Cupcake
Daisy
Daisy
Darling
Diamond
Divine
Donut
Dream girl
Emerald
Eye candy
Flower
Fluffy
Forever mine
Glorious one
Gold fish
Golden girl
Gorgeous
Heart beat
Hearty
Honey bee
Honey love
Honey pie
Hot sauce
Hottie
Humming bird
Ice cream
Jasmine
Jewel
Joy
Juliet
Kit kat
Kitty cat
Lamb
Lemon drop
Light of my soul
Little lamb
Little monkey
Love bird
Love bug
Love nugget
Lucky charm
Marshmallow
Melody
Meow
Miracle
Miss universe
Muffin
My boo
My girl
My one and only
Peach
Pickle
Pink
Precious
Pretty lady
Princess
Princess
Pumpkin
Queen
Rose
Snow flake
Snow white
Spark
Spring
Sugar babe
Sugar pot
Sun flower
Sunshine
Super woman
Sweetheart
Sweetie
Sweets
Tea cup
Tinker bell
Tutti fruity
Twinkle star
---
Funny Contact Name Ideas for Your Girlfriend
Funny contact names can add a lighthearted and playful touch to your girlfriend's contact. Here are some humorous suggestions:
WiFi Stealer 😄📶
Snack Attacker 🍕🤣
Queen of Puns 👑🤪
Netflix Buddy 📺🍿
Gigglesaurus 🦖😂
Chief Napper 💤🛌
Taco Partner 🌮😁
Cheesy Lover 🧀🤣
Drama Queen 👑🎭
Caffeine Queen ☕👑
Dance Floor Diva 💃😄
Pillow Thief 🛏️👑
Pancake Fanatic 🥞😆
Ice Cream Addict 🍦😂
Queen of Sarcasm 👑🙄
Serial Hugger 🤗😁
Punny Bunny 🐰🤣
Karaoke Superstar 🎤😄
Sock Stealer 🧦🤪
Meme Master 📸😆
Pizza Aficionado 🍕😂
Captain Chaos ⚓🌪️
Laughter Therapist 😄🤹‍♀️
Chief Procrastinator 🕰️🤣
Master of Giggles 🤣🎩
Remote Control Boss 📺👑
Pajama Fashionista 👚🩲
Purrfect Cuddle Partner 🐱🤗
Chocolate Connoisseur 🍫😄
Serotonin Supplier 🧪😁
---
Contact Names For Your Girlfriend With Emoji
Adding emojis can make the contact names even more fun and expressive. Here are some cute contact name ideas for your girlfriend with emojis to save in your iPhone or android mobile:
Sweetie Pie 🥧❤️
Lovebug 🐞💕
Angel Eyes 😇👀
Honey Bunny 🍯🐰
Cupcake 🧁🌸
Sunshine ☀️😊
Baby Doll 👶🎀
Snuggle Muffin 🤗🧁
Starlight ✨🌟
Pumpkin 🎃🧡
Buttercup 🌼💛
Teddy Bear 🧸🐻
Peachy 🍑🥰
Darling 👸🌹
Moonbeam 🌙💫
Cuddle Monster 🤗👾
Precious 💎😇
Cherry Blossom 🌸🌸
Sugar Plum 🍬🍭
Heart Throb 💓😍
Sparkle ✨💖
Treasure 🏴‍☠️🗝️
Adorable 🥺🥰
Queen Bee 👑🐝
Dreamboat ⛵🌌
Flower Child 🌼🌸
Charming 😊✨
Wonder Woman 🦸‍♀️❤️ (customize for her interests)
My Everything 💑🌟
Boo Bear 🐻👻
---
Names To Save Your Girlfriend Contact in Phone
While contact names can vary widely based on individual preferences and cultural differences, here are some commonly used contact names that are popularly used worldwide to save girlfriend contacts:
Adore
Angel
Babe
Baby
Bae
Beautiful
Beloved
Bestie
Boo
Cutie
Darling
Flower
Gorgeous
Heart
Honey
Love
Moon
My Everything
My Girl
My Love
Princess
Pumpkin
Queen
Soulmate
Sparkle
Star
Sunshine
Sweetheart
Treasure
Wifey (even for non-married couples)
---
Food Contact Names For Her
Here are some food-inspired contact name ideas to save your girlfriend's contact.
Sweet Cookie 🍪🥰
Honey Bun 🍯🍞
Cupcake Cutie 🧁😊
Sugar Plum 🍬🌸
Choco Love 🍫❤️
Berry Babe 🍓💕
Pizza Partner 🍕👫
Pumpkin Spice 🎃☕
Cinnamon Swirl 🥐🌟
Popcorn Princess 🍿👑
Cheesecake Cherub 🍰😇
Waffle Wonder 🧇✨
Marshmallow Maven 🍡🔮
Fruit Salad Queen 🥗👸
Sushi Sweetie 🍣🥢
Pancake Paramour 🥞💖
Cookie Dough Cuddle 🍪🤗
Chocolate Charmer 🍫😄
Taco Treasure 🌮🏴‍☠️
Ice Cream Angel 🍦😇
---
In conclusion, choosing a cute contact name for your girlfriend is a great way to show your love and affection for her. By using a personalized and unique nickname, you can make her feel special and loved. You can use the list of 100 romantic cute contact names for girlfriends as a starting point to find the perfect one for your girlfriend. Remember to consider her personality, qualities, and what makes her unique.
Whether you choose a romantic, cheesy, or sensual name, make sure it symbolizes the love you have for your girlfriend. And don't forget to save girlfriend contact name in your phone to make her feel even more important. By following these tips, you can find the perfect nickname that brings a smile to your face every time you see it pop up on your phone.
Thank you for reading and happy nickname hunting!
Also check out cute contact names for boyfriend.