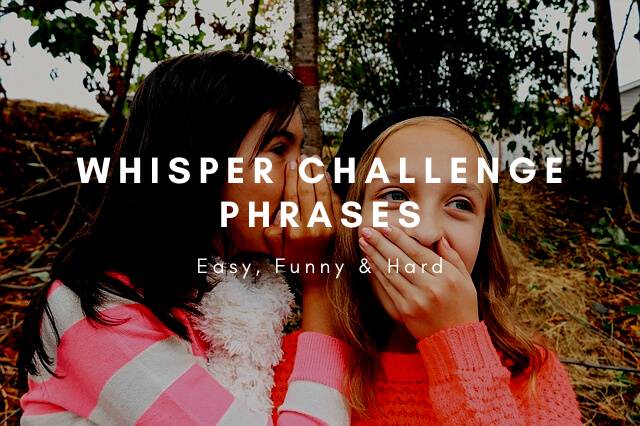 Many of us spent our childhood playing the telepathy game where we would whisper a word or phrase to the next person and if there were more people, it would get whispered along the circle. We all remember spending hours on that game but are you ready for taking it up a notch? The whisper challenge is a step up from telepathy challenge and results in a much more enjoyable time.
The question is how is the game played exactly? Let's take the scenario of 2 players, one would have headphones on and the other would be whispering the phrases. When the players are ready, the person with the headphone would turn up the music high so as to not hear anything and the other person will whisper out the phrase. Even if the whisperer tries to convey the meaning through elaborately speaking out the phrases, the other person would not be able to lip read that well. Due to that, when they would try to recreate the phrase, it will be completely garbled.
People often make up their own whisper challenge sentences but that can be a bit tricky because nobody wants to be the person who created such easy phrases that the other person caught them without any difficulty. In order to help out our readers, we have come up with easy, funny, hard and dirty whisper challenge phrases that are guaranteed to produce hilarious responses. Check out some of the best whisper challenge phrases / telepathy challenge phrases down below:
Easy Whisper Challenge Phrases
Pizza
Pineapple
Eat Egg
Crazy fox
Afternoon
Green tea
Jumpy cow
Pineapple
Holy Night
Just do it
Angry bird
Baby shark
Black crow
Whats 9+10
I like you
Shark tank
I grow old
I love you
stop crying
Cut corners
On the ball
Sing a song
Olive juice
I like eggs
Defy Gravity
Jingle Bells
Strawberries
Speak louder
I don't know
Dainty dishes
Grain of salt
Jack and Jill
Stop screaming
School is lame
Stop screaming
School is lame
Oh, never mind
I speak French
What do you do
Salt and Pepper
A piece of cake
Grandma Grandpa
Pickles on Buns
Salty and spicy
You are an angel
Nice to meet you
Devil's advocate
I got two pickles
What do you like?
Foggy London awaits
Once in a blue moon
The Eagle has landed
Let's get fast food.
Do you like turtles?
Love the way you lie
Pikachu I choose you!
It takes two to tango
I like to eat my toes
Your feet are too big
Expelled is on Netflix
Get high, climb a tree.
I'm fresh and you're not
You are my queen slay me
Internet kids never sleep
League of legends is life
I'm addicted to youtubers
Look at all those chickens
All my life I had to fight
I ate your sister's pancakes
I like to read in the shower
Is your eye brow game strong?
Do you want to get some cheese
---
Funny Whisper Challenge Sentences
Elephant Shoe
Eat your foot.
Banana suicide!!
Miranda Is queen
Fast and furious
Are you adopted?
Bruno mars is bae
Daisy is an angel
You moved my cheese
A Zebra licked a DVD
The banana has legs!
The cows were flying
Save water, drink beer.
I have a fear of buttons
I ate your mom's elephant
Where do babies come from
The cat is out of the bag.
the duck flies at midnight
Never set yourself on fire.
The shoes don't fit my hand
Do you want to lick my face?
I love pizza. Pizza is love.
I love the smell of road tar
I want to run away from you.
Save a horse, ride a cowboy.
Booty shakin all day everyday
Never put a cat on your head.
I want to make babies with you
I'm not really saying anything
My pet turtles name is ketchup
Do you want to build a snowman?
I am pretending to be a tomato.
Catch your fridge its running away
I hate the green flashing light.
I have the best hair in the club
May the odd be ever in your favor
---
Hard Whisper Challenge Questions
The quick brown fox jumps over the lazy dog
"I WAS 'A' THE WHOLE TIME"
Angry people need hugs or sharp objects
Are your eyebrows on fleek?
She sells seashells by the seashore.
Ask her why she has the same name as me
Blue is greener than purple for sure
Can I sniff your doughnut holes
Come to the dark side. We have cookies.
Did my sarcasm hurt your feelings? Get over it.
Do not disturb, evil genius at work.
Do whatever tickles your pickle 🙂
Don't get in that car it's blue
Don't mess with me! I have a stick!
Even my issues have issues.
Go pre-order Handwritten
Hey little mama let me whisper in your ear
How much wood would a woodchuck chuck
I am so blue I'm greener than purple.
I ate my sisters waffles
I have two noses and a plate of spaghetti
I like to eat big fat geese
I like to play with kitties and eat grass
I like when u sniff your dog
I might drive into all the malls
I saw you hide the dead body
I threw a walrus at your grandmother
I want a yummy little puppy
I'm feeling a bit Frantastic
If you're reading this it's too late
Inside every duck is the heart of a lion!!
Joe sugg is a genius
Knowing sign language can be very handy
Life is like a box of chocolates
Love your enemies, it makes them angry.
My happy little Phil take dan away
Penguins are the only thing I don't have.
Peter Piper picked a peck of pickled peppers;
Pink fluffy unicorns dancing on rainbows!
Rubber baby buggy bumpers
Save a drum, bang a drummer.
Save a tree, eat a beaver.
The big fat friend sat on the big fat mat
We're all gonna die, but I have a helmet.
Who lives in a pineapple under the sea
Would you rather eat some grass or kitties?
Your hair tastes like strawberries.
---
Dirty Phrases
I farted.
Ride him, Cowboy.
He/She left me high
I like long bananas
You have tiny buttocks
I want to lick your toes
You do you and I do me
I want to make babies with you
What do you want me to do to you?
Where do babies come from?
Can you rub this lotion on my back?
Tonight I want you to take control."
Hey baby lemme touch your………Toenail 😂
My eraser will kick your eraser's ass!
I can't feel my lips, can I feel yours?
The whisper challenge questions is best played with a whole group of people as it follows the concept of the more, the merrier. If you want to have funny whisper challenge phrases that the other person would definitely mess up, pick out some phrases for whisper challenge from the above list and see the other player muddle up the whole thing.
What's next? Check our second collection of more funny whisper challenge phrases.