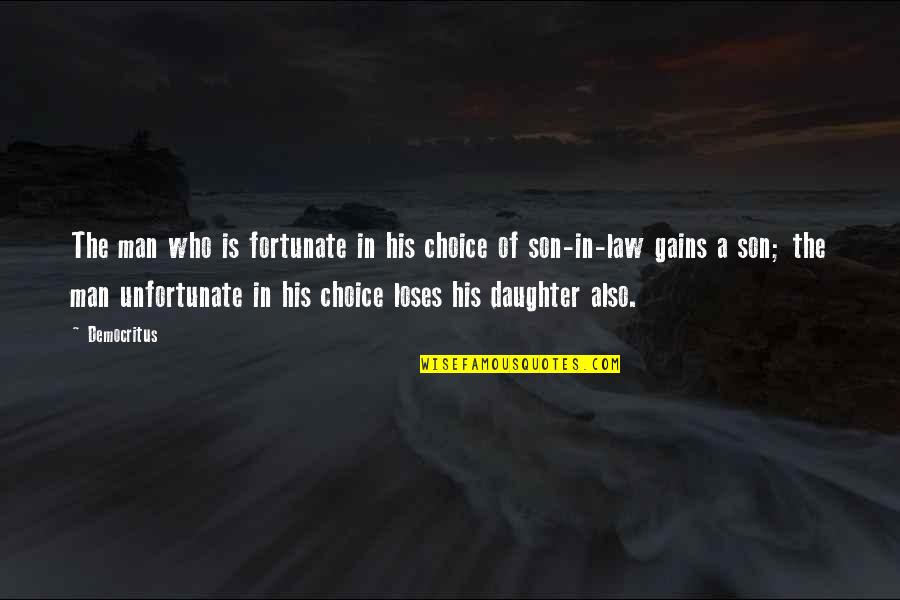 It is one of the greatest blessings of life to have a son in law with whom you see your daughter fall in love and then commit to spend her whole life in his home. Being a father or mother-in-law, you feel eager to maintain a friendly and a healthy relationship with your own daughter's soul mate. You begin to consider him as a family member and love to take him out to family vacations and traditions. Many even find pleasure in bonding over mutual hobbies and activities.
There may be situations in which people feel awkward and rather unfriendly around their son in law. This may be because of any past problems that may have disturbed your relation with them or even because of his own nature. Either way, your son in law has things that he would love to hear from his wife's parents considering how responsibly he takes care of your daughter. So here this article includes a compilation of the best son-in-law quotes that you can use for your son-in-law which might even help enhance your daughter's relationship with her husband.

Son in Law Quotes
Sharing some really beautiful and thoughtful son in law quotes can be used as an amazing way to let him know how much you appreciate him. Here are the best son in law quotes for you to choose from:
When our daughter chose you, we knew that you were a good choice for her and our family, for that we would love you.

A man who treats his woman like a princess is a proof that he has been born and raised in arms of a queen.

A great relationship is about two things, first, find out the similarities, second, respect the differences.

Because you're very special. It's so nice to have this chance to wish you the best of everything for a whole year.

Even the most expensive gift in this world is insignificant in front of the gift you have given us by being an awesome son in law.

For you, we are more than just parents-in-law. For us, you're more than just a son-in-law – we hope this mutual admiration continues forever.

God gave us the great gift of you. We are proud to have a man like you as our son in law.

I'm proud of my daughter's choice because we couldn't have got a better son in law than you. Have fun!

It takes a thousand prayers and a million acts of kindness to get blessed with a son-in-law like you. We're proud of you.

It was power of love that made you part of our family and that power continues to resonate in our lives. You are truly a part of our hearts and we are so glad about it.

May everything that makes you happy be your today, tomorrow and always.

May life always bless you with strength, power and fortune – so that you can always keep our daughter happy.

My daughter found her life partner in you, my son found a brother in you and we found a second son in you.

Now that you've come along, our family is complete.

Sometimes, it's your support and most of the time it's your love in unspoken ways. That says a lot about you. You deserve nothing but a great birthday. Have a fabulous time.

Son in law – created by God, hand chosen by my daughter to be loved, cherished and valued as a member of our family.

Thanks for always treating me like your own mother. I'd never find an awesome son in law like you.

To the man who have our daughter everything that we couldn't. Happy birthday! Stay blessed.

We could not have hoped to get this much even from a son. You've done so much for our whole family. You are such a splendid husband that it is impossible to find another one like you.

When our daughter fell in love with you, we knew we would love you, too.

You can make everyone smile. It seems that you have a natural talent to make everyone around you happy. You have a good heart full of love

You deserve to have a relaxing time. You work hard to keep our daughter happy.

You may not have been born into our family, but you seem to be born to be part of it.

Please don't worry about the small things that you missed in a day, everything will fall into place, just be patient dear.

You never have to worry about losing anything because you have got two families that have your back!

My dear son in law, there's one thing that I surely know is that you will never run out of motivation to push you because we will always be here to motivate you.

You care for our daughter by the doing things she love. For that, we adore you even more.
Every son in law would love to feel that he's part of his wife's family. Imagine how happy your beloved daughter would feel when you being her parents treat her husband with so much affection and hospitality. Every in-law relationship may not be ideal or even easy to work on but these tiny steps in gaining some respect from your son in law by appreciating him might just increase his love for your daughter. I hope these son in law quotes will help you appreciate your him the way he wants it from you!
What's next? Check our other collection of related quotes about in laws.