When it comes to unsung heroes of motherhood, the woman we often overlook is 'mother in law'. It can be a love-hate relationship for a married woman. But, you also share an unforgettable bond with mother in law. Right? Getting married means having more new relationships. One beautiful bond is with darling mother in laws who have found you a perfect match for her son. Give her the best gift with a one-liner quote to make her feel valued and special.
These sweet mother in law quotes can be shared anytime, no matter what the occasion is. It's basically a perfect gift to your spouse's mother which makes her understand your pure love. All these loving quotes will make her feel proud and cherish with joy. If you respect her and appreciate her little efforts, you'll also get loved by her. As a mother, she wants to get her importance at times. It's a nice idea to share a quote with your mother in law and let her know that she is just like your real mom. We've done a collection of mother in law quotes to share with her a lot easier for you.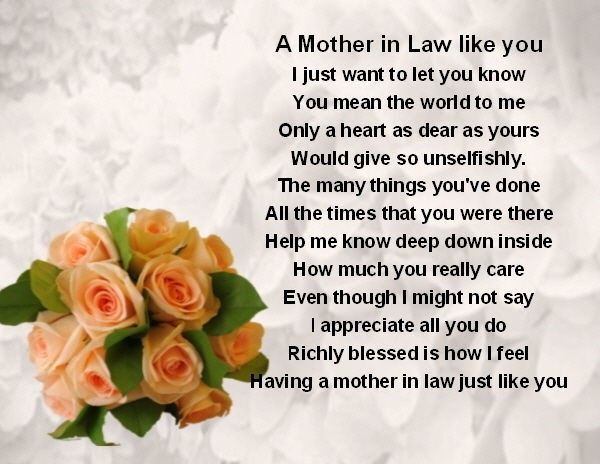 Mother in law quotes
Pick any few of these mother in law quotes quotes or share the complete list of the mother in law quotes with your spouse's mom.
On Valentine's Day, I wired flowers for my mother-in-law, but she found the fuse. – Milton Berle
A person often catches a cold when a mother-in-law comes to visit. Patients mentioned mothers-in-law so often that we came to consider them a common cause of disease in the United States. – Thomas Holmes quotes
I told my mother-in-law my house is your house. So she sold it. – Henny Youngman
I bought an ideal gift for my mother-in-law a battery-operated mouth. – Milton Berle
I wanted to do something nice so I bought my mother-in-law a chair. Now they won't let me plug it in. – Henny Youngman
I told my mother-in-law that my house was her house, and she said, 'Get the hell off my property.' – Joan Rivers

My mother-in-law fell down a wishing well. I was amazed; I never knew they worked. – Les Dawson Tomonaga
The day two girls or women can genuinely be friends to each other, we will see then no war, camouflaged or open, between the wife and her mother-in-law in any house. – Anuj Somany
Behind every successful man lurks a truly amazed ex-mother-in-law. – John Chrusciel
Mothers-in-law do not make good house pets. Once I had the most wonderful dream i dreamed that mothers-in-law cost money and I couldn't afford one. -Phyllis Diller
Maybe I should' mouth off to the elemental I kinda hoped was my future mother-in-law. – Kiersten White
Be kind to your mother-in-law but pay for her board at some good hotel – Josh Billings
Behind every successful person, stands a very successful mother-in-law. -Lou Holtz
My wife is the kind of girl who will not go anywhere without her mother, and her mother will go anywhere. – John Barrymore
The mother-in-laws themselves weren't natural jokes but most comedians used to use that. – Allen Toussaint
Behind every successful man is a proud wife and a surprised mother-in-law.- Hubert H. Humphrey
Even money that my liver lasts through my wife's metamorphosis to my mother-in-law. – Tim Heaton
I haven't spoken to my mother-in-law for eighteen months-I don't like to interrupt her. – Ken Dodd
A mother-in-law is better than a single and childless political persona, though. – Vladimir Zhirinovsky
A bride who is bullied by her mother-in-law will herself become a bad mother-in-law. – Sin-Itiro
Conscience is a mother-in-law whose visit never ends. – Henry Louis Mencken

A mother gives you a life, a mother-in-law gives you her life. – Amit Kalantri
Give up all hope of peace so long as your mother-in-law is alive. – Juvenal
Yet you would not drive a car with your mouth unless you are my mother-in-law. – Jean-Louis Gassee
The mother of a trophy wife is not automatically a trophy mother-in-law. -John Grisham
The only thing more intimidating than a huge international film star is your mother-in-law. – Benjamin Walker
A car is like a mother-in-law – if you let it, it will rule your life -Jaime Lerner
I always know when it's the mother-in-law knocking at the door – the mice throw themselves in the traps.
I never forget a face, But in my Mother in law case I'm willing to make an exception.
I have never made a fool of my mother in law. I just leave her to display her natural talents herself.
My mother in law and I were happy for 20 years. Then we met each other.
I love your son, my husband. I appreciate the fact that you are one of my children's favorite play mates, and that you are not more annoying than my own mother.
I am happy every day because of the way you raised your son, the most amazing man I have ever met, and how you accepted me into your family.
Q: How many mothers-in-law does it take to ruin a marriage? A: Just one … mine!
Q: How many mothers-in-law does it take to screw in a light bulb? A: None … she always gets the son-in-law to do it.
You were a part of our daily lives when we were going through the most difficult situation. Your help was invaluable.
Last week my wife and I went car shopping, and the salesman asked if I wanted a car with an Airbag. I said, "No thanks. I already have a Mother-in-law."
When you have a wonderful mother-in-law who takes sides with you in squabbles with her own daughter – that's something. – Lou Gehrig
If you have a mother-in-law with only one eye and she has it in the center of her forehead, don't keep her in the living room. – Lyndon B. Johnson
Scrum is like your mother-in-law, it points out ALL your faults. – Ken Schwaber
Thank you for adopting my husband and helping him become the man he is today.
Loved all of above nice mother in law quotes? Now, it's up to you how you choose to use these quotes. If your mother in law loves reading cards or short notes, write them down. Make your card look pretty and cute. If she loves reading text messages, send her a message. If she is social media fan, share this post. If she is on your friend's list, share a status with this post and tag her. I'm sure these ideas will help you create a card today or send the quote now. The feelings of love should not be kept secret. Let them throw in the air and spread it all over. Got a friend who has a rocking mother in law? Share these quotes for mother in law with her too.
What's next? Check our other collection of related quotes about in laws.