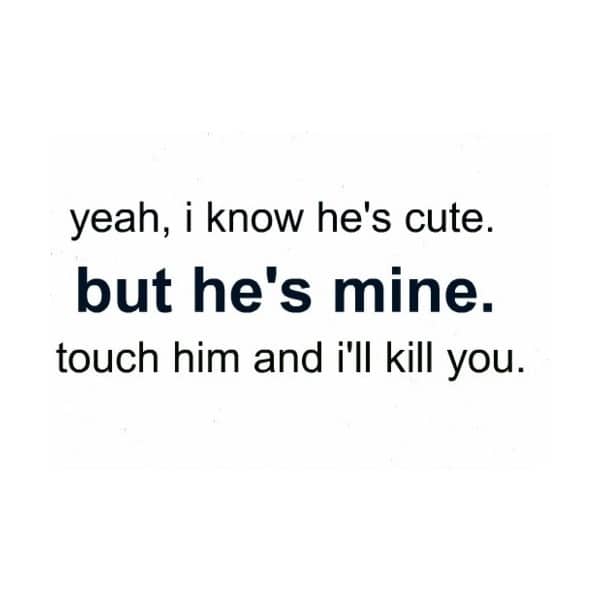 Do you feel little hesitant to share a promising word with your cute BAE?
Or, Maybe you feel a bit shy about it?
Or, you don't have the right words to express the precious sentiments. Well, it happens!
A loving quote, text or even a WhatsApp status can actually make your BAE feel special. And, make him/her blush?
Bae commonly stands for 'Before Anyone Else'. People also love to use it for 'sweetie' or 'cutie pie'. It's a cute word for your love of life. It could be your BFF too!
Nowadays, there are so many images, posts, memes for BAE and everyone is absolutely loving it.
A quote or saying must express the feelings of emotion and care. A simple thoughtful sentence or a quote is a loving way to show affection, passion and care.

You always wish to treat your love gently and what could be better than sharing a cute quote with her/him every day? And, there's nothing bad in expecting good words from your bae too 😉
So, there should be something special for him/her.
Bae Quotes for Him and Her
Here, I've collectively compiled a list of cute BAE QUOTES that you can share with your love every day. These bae quotes can also be used as social media status.
It's amazing when you have feelings for someone and they have those exact same feelings for you.
I appreciate everything about you.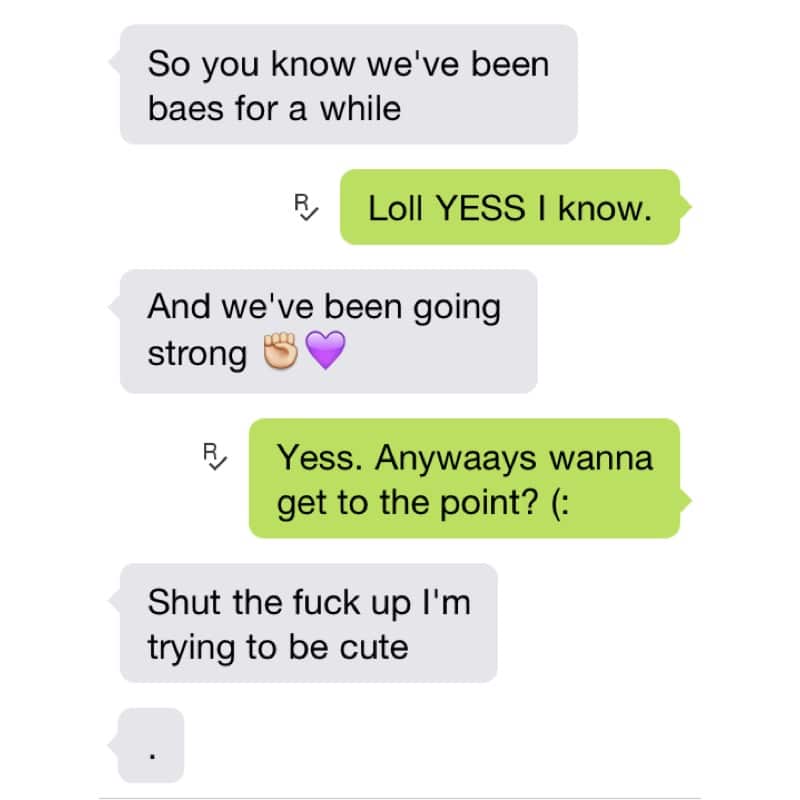 It's crazy to think you have so much control over my happiness.
I think about you more than you think.
You're the one I want to be next to right now.
If you asked me to write down how I feel about you, I would probably need a billion sheets of paper.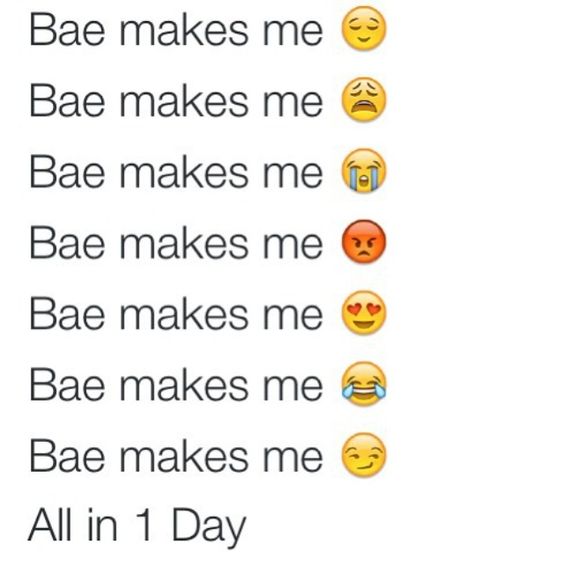 If I could be granted any wish it wouldn't be for money or fame but to be with you forever.
My goal is to make you the happiest person in the world.
I wake up thinking about you.
I enjoy every minute we spend together.
It's simple. Never give up on me and I'll never give up on you.
It's sweet when someone remembers every single detail about you. Not because you remind them but because they pay attention.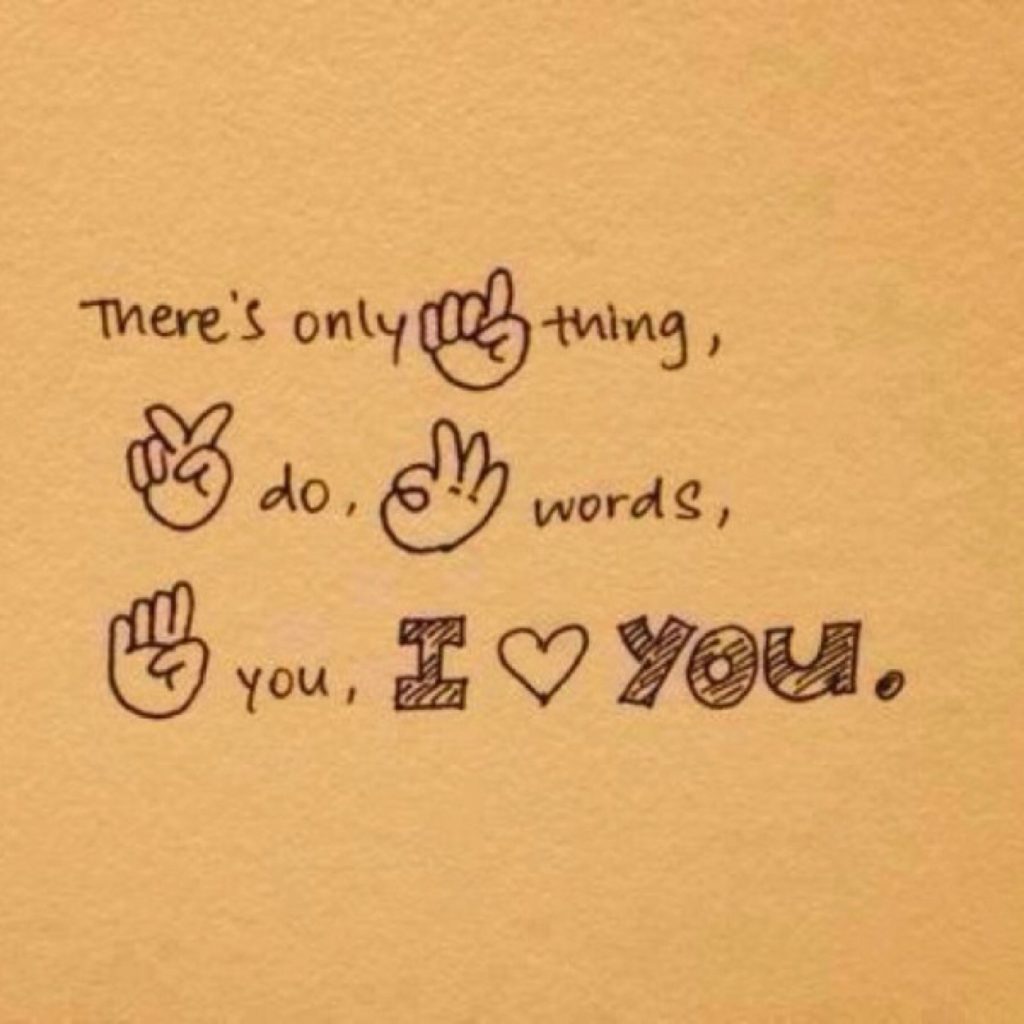 You will always have a special place in my heart.
When I get a text from you, I stop everything just to read it.
Your my first thought in the morning and last thought before I fall asleep.
I'm happy when you're here with me.
When I think of my future you're always in it. I guess that makes it our future.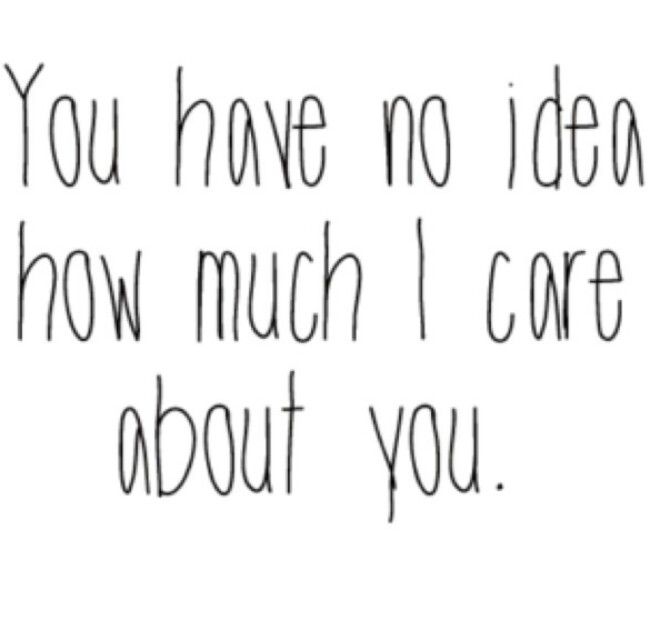 I still remember the feeling I felt when I first started talking to you.
I want you. All of you. Your flaws. Your imperfections. Your mistakes. All of you.
Only want three things right now
1. To see you
2. To hold you
3. To kiss you
The happiest moment of my life was when I realized you feel the same way about me as I do of you.
Love means never having to say you're sorry.
Love is cute when it's new, but love is most beautiful when it lasts.
I love my life because it's you.
Go for someone who is not only proud to have you but will also take every risk just to be with you.
A successful relationship requires falling in love many times, always with the same person.
Since you've been around I smile a lot more than I use to.
You have no idea how fast my heart beats when I see you!
Some love one, some love two. I love one – that is you.
My heart always will be yours.
You are my favorite reason to lose my sleep.
Every love story is beautiful but ours is my favorite.
I love you. 1 second to say. 2 minutes to explain and a lifetime to prove it.
Love is more than my live and my love is you.
The best relationship is when you two can act like lovers and best friends.
A successful relationship requires falling in love many times, always with the same person.
The happiest I've ever felt was that moment I discovered you loved me too.
If I had to choose between loving you and breathing I would use my last breath to say I love you.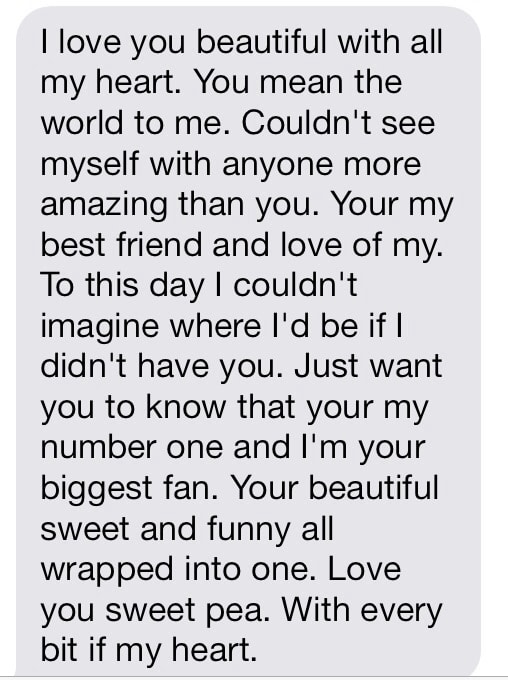 Being deeply loved by someone gives you strength, while loving someone deeply gives you courage.
People asked me if I missed you, I smiled and replied, do you breathe?'
Say it before you run out of time. Say it before it's too late. Say what you're feeling. Waiting is a mistake.
Real happiness is when you marry a girl for love and find out later she has lots of money.
The world's happiest couple never has the same character. They just have the best understanding of their difference.
Being someone's first love may be great, but to be their last is beyond perfect.
When the angels ask what I most loved about life, I'll say you.
Love is like a rubber band you need to hold it from both the sides by two people. When one leaves it hurts.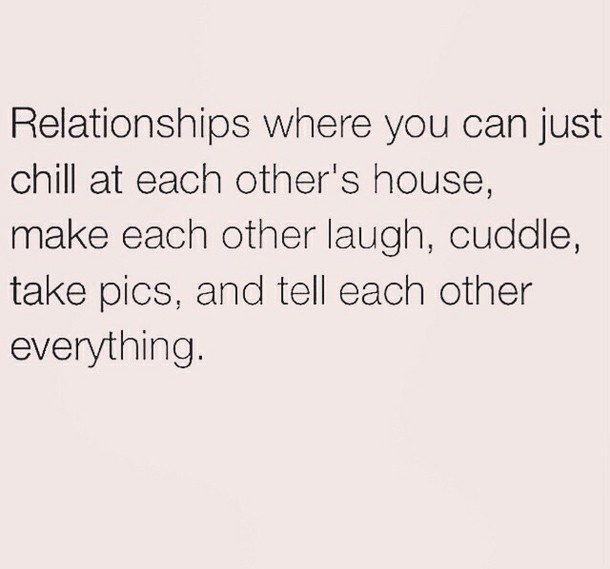 Don't look for love. Quietly give it away and let if find you back.
I want to run away with you. Where there is only you and me.
Thinking of you is easy, I do it every day. Missing you is the heartache that never goes away…
Love is like a baby, it needs to be treated gently.
Falling in love with you is the second best thing in the world. Finding you is the first.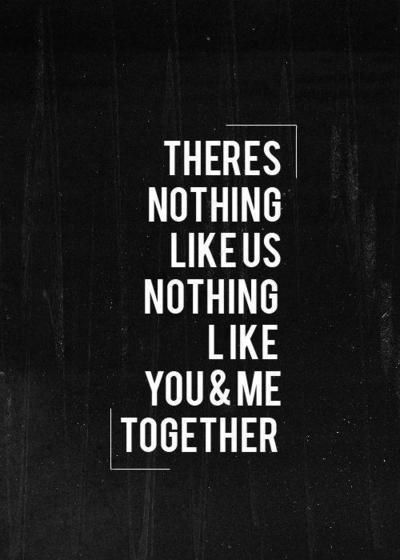 Every love story is beautiful, but our is my favorite.
Never trust your heart because it's on the right side.
Your smile is more beautiful than stars.
Your cute smile is all I need to battle all struggles in my life.
When I'm with you, hours feel like seconds. But when we're apart, days feel like years.
The best feeling is when you look at the one you love and they're already looking at you.
A life without love is like a year without summer.
The person loves you more will fight with you daily without any reason.
Falling in love is only half of I want, staying in love with you for till forever is the other
Being deeply loved by someone gives you strength. While loving someone deeply gives you courage.
Love is an ocean of emotions entirely surrounded by expenses.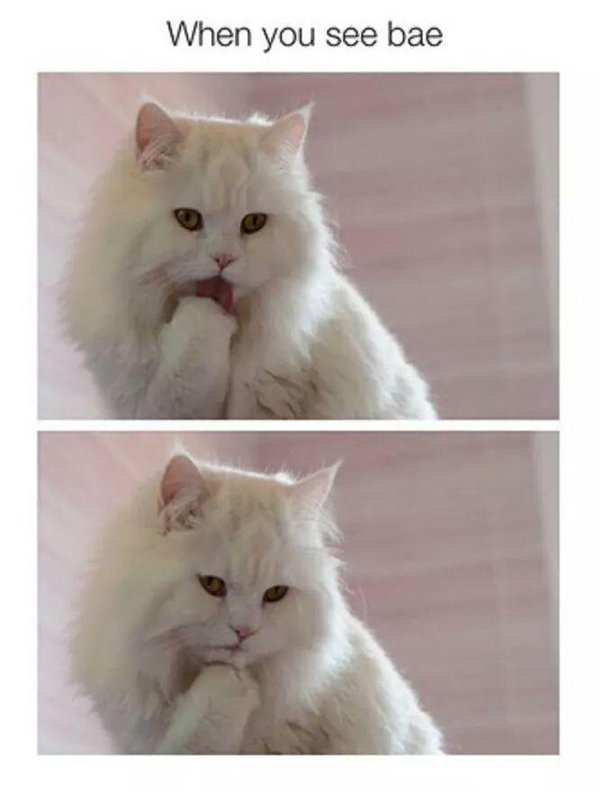 Without you. I'm nothing with you. I'm something. Together, we're everything.
You are just a memory of my love.
Let me love you if not for the rest of you life then for the rest of mine.
Your smile is the key of my heart.
Nothing is fine, but when I'm with you everything is fine.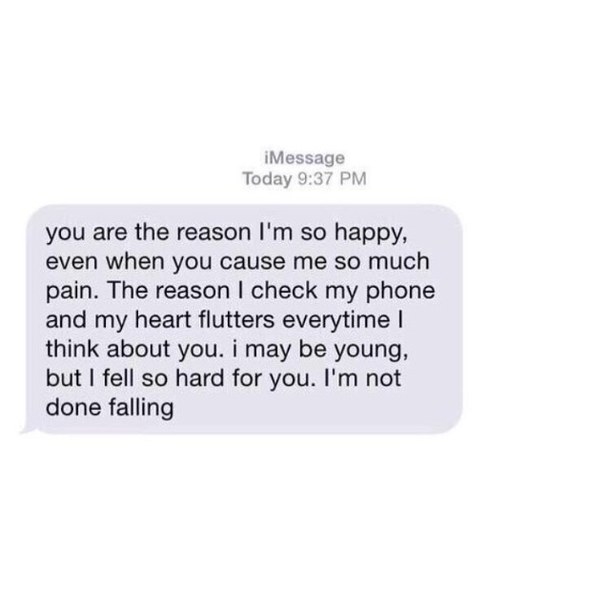 A true man dose not need to romance a different girl every night, a true man romances the same girl for the rest of her life.
Love isn't complicated, people are.
Love means two minds without a single thought.
Be aware to touch me… you may be victim of Love.
Every morning would be perfect if I woke up next to you.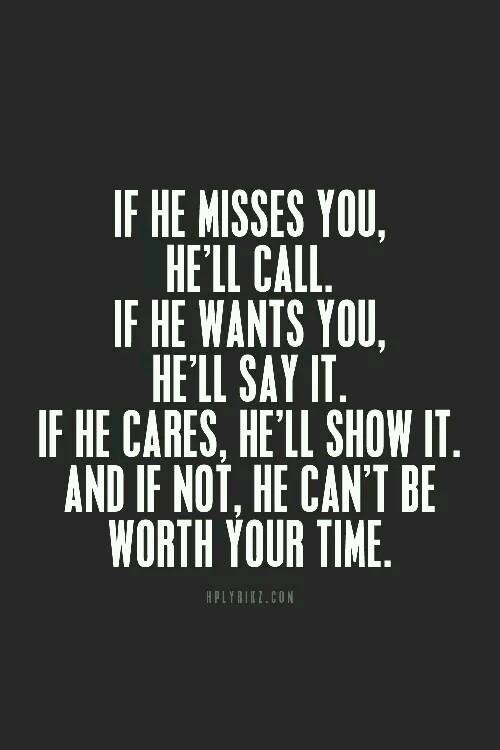 It's not about her looks, It's about her heart.
I think our love can do anything we want it to.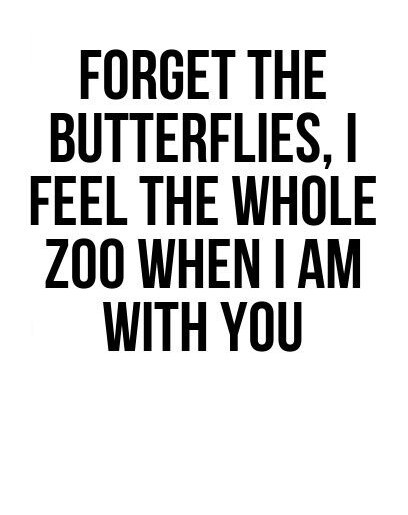 I'm not single, I'm just romantically challenged.
I fell in love with you, I don't know why or how. I just did.
Your cute smile is all I need to battle all struggles in my life.
You are the best thing that's ever been.
Every night I think of you before bed with the hopes of having you in my dreams.
You're the reason behind my smile.
Don't marry someone you can live with. Marry the person who cannot live without.
I love you no matter what you do, but do you have to do so much of it?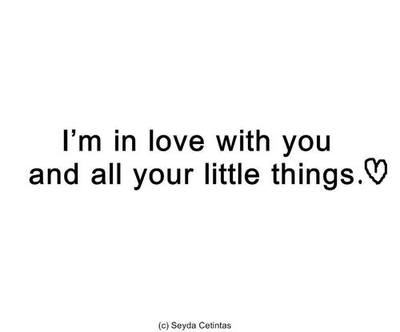 There's only 1 thing 2 do 3 words 4 you – I Love You.
When I'm sad don't look at me – just kiss me.
True Love is not based upon romance, candle light dinner and walk alone beach. Infect, it's based on care, compromise, respect and trust.
I love you for who your from the inside. The lovely looking outside is just a bonus.
Every time you texts me my cheeks hurt! I guess I smile too big.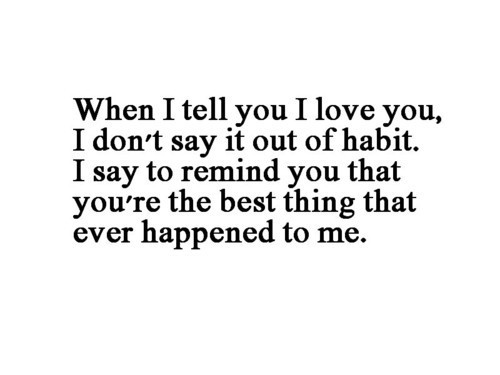 If I were Nike and you were Mcdonald, I would be doing it and you would be loving it!
One day I caught myself smiling for no reason, then I realized I was thinking of you.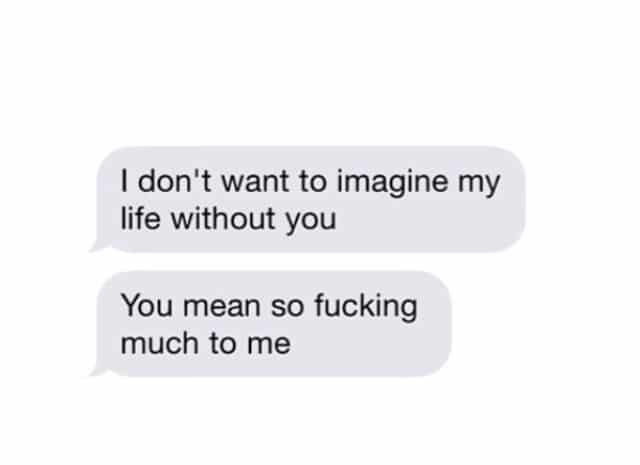 When I dream, I dream of you. Maybe one day, dreams will come true. Because, I really love you.
You will find a girl prettier than me, smarter than me, and funnier than me, but you will never find a girl just like me.
Getting over him sounds great but being in his arms sounds a lot better.
I promise you no one will ever love you like I do.
You're the ping to my pong.
Cute lady need cute boy and I'm here for the same.
I smile like an idiot when I'm talking to you Doesn't matter if it's in person or through text or anything else. I just smile because it's you.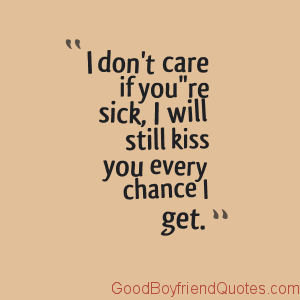 When the angels ask what I most loved about life, I'll say you.
I'm selfish because I will never share you with anyone else.
Loved the bae quotes?
I'm sure your BAE will also adore it. It's time to share few quotes right now whether on Instagram, facebook or whatever you like. Rest, bookmark the post so that you can check out later.
By the way, which bae quotes grabs your personal attention and WHY?
I'd love to know your favorite?
Add your love words for BAE in the comments section.