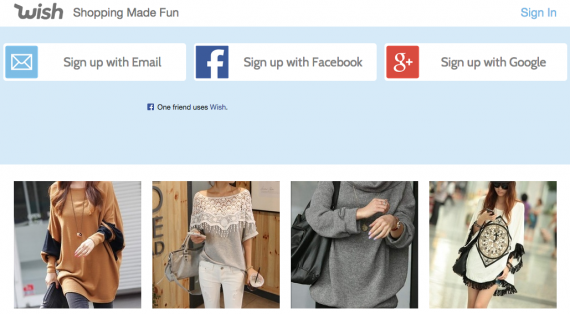 Gone are those times when we had to plan all the way to a shopping mall to buy the favorite products at discounted prices. With the invent of apps, websites and online forums shopping has become much easier than we ever imagined.
'Wish' is known as an online bazaar or the shopping destination where a number of unbranded products are displayed. Most of the stuff is directly from the wholesale markets of China. With over more than 100 million downloads, Wish app is successfully popular among women, men, young and adults. Mommy's get attracted toward the variety of children products and fashion accessories. You just name it, and the app displays it.
To provide extraordinary services to online buyers, mobile apps have replaced the shopping sites. The buyers don't need to visit the site every time but a friendly mobile app is easy to go with.
Best Apps Like Wish For Shopping
Well, here are few other mobile apps like Wish and provide some great offers to the online clients.
AliExpress is a huge online shopping project that caters to a wide range of buyers and their mobile app is one of the best apps like wish. It is a part of AliBaba Group. The website claims to offer reasonable prices on 100 million product range. The shopping website has gained immense popularity for it's worldwide shipping to over 200 countries and region. From clothes accessories, automobiles to unlimited tech items, the site uploads thousands of products weekly. By downloading app, buyers can enjoy a friendly unforgettable experience.
Other than English, the company offers services in 5 other languages. It also gives 24/7 customer assistance to the online buyers in order to provide a friendly shopping experience. The online marketplace offers super deals and happy discounts that become an attraction for the reliable online customers.
To provide a memorable online shopping experience, Overstock app is just a perfect destination and similar to wish. The buyers will gain a fun experience by enjoying a discount up to 70 % on certain products. This app lets you enjoy daily deals, big sales, and weekly promotions. With coupons, the buyers can purchase some quality items at affordable rates. With a team of talented professional employees, the company claims to offer quality services. From home furniture to diversified accessories, the site has something for every buyer.
You can choose to use the overstock app on your mobile to place an order just like Wish app. With daily deals and discounts, buyers find exclusive products at a competitive price.
Zulily is the best choice for a mobile app and is app like wish because it thrives on the new products every day. Shoppers and subscribers receive new sales and items every day when they visit the online shopping site. Zulily, just like other shopping sites and apps, gives the most attractive products. The online site incorporates with social media sites and encourages buyers to share the online experience.
Online shopping with Zulily app is easier than you had ever imagined. It ensures buyers to select the product with a diversified range of categories. It's free to sign up for the site and get pleased with the shopping experience of Zulily.
It is another app just like Wish and it claims to save you more than 50% to 70% discounts on several items. This mobile app is just perfect for all the geeks who are interested in watches, phone essentials, latest headphones, car accessories and several electronic items. However, Wish app is scattered over other products including clothing and fashion etc.
The Geek app is a perfect shopping destination where you can place an order and get it delivered to the front store. Download the app to get the cool products in no time.
From everything related to living to entertain, Banggood has become a favorite shopping choice. With Banggood app, the buyers can avail happy discounts too. The app is the best alternative to Wish app. With New arrivals, Fresh deals and Preorder selling the buyers can select quality products at the best choice.
The buyer receives items of the flash sale on the mobile app. So, it's pretty easy to shop online with an ease of the app. The products are divided into a number of categories including clothing, electronic,accessories etc.
These are few mobile apps like Wish for online shopping that could be utilized to gain an amazing shopping experience. If there's any other app similar to wish that inspires you then let us know in the comments so that we can add it next time we come around this topic.